Speak Indian, Connect to Indians
Want to sell in India? 
Talk to Indians in their languages
India is a multilingual country. Large number of end consumers and farmers are comfortable in communicating in their own language. Specially in agriculture, the activities, crops, weeds, insects, diseases have distinct names and descriptions. The users prefer to use those words and phrases.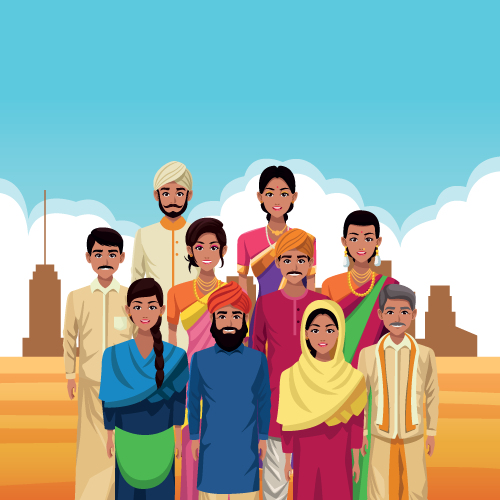 The small and medium businesses have to restrict themselves to specific regions.  For other regions, they depend heavily on distributors.  The incoming calls for enquiries and service are not handled professionally.  Moreover, systematic data generation does not happen.  This results on loss of business on one hand and loss of farmers for want of prompt information on the other hand.
Large companies have their communication system in place, in the form of 3 to 4 language support.  They depend heavily on trained field representatives.  The data compilation and query consolidation and keeping all the languages update face limitations.
There is an increase in size and number of agri-support businesses. Fertilisers, solar energy equipment, tools, medicines, nutrients, boosters, packaging solutions, post harvest solutions, on-farm processing units are some of the examples of such businesses. All these businesses necessarily communicate with the end users, that is farmers and need to communicate in their own language to sell, service, answer queries, promote, educate etc.
Samvadak: Solution by TranslationPanacea
Incoming calls for service must be answered satisfactorily. There can be specific queries, problem faced. The caller speaks local languages.  The query must be answered in his language.
Incoming calls for enquiries – These are sales calls in local languages and must be answered in local language. The lead is handled well and transferred to the company for follow up and closing.
Uncertain number of incoming calls in a specific language – The companies cannot invest in their own call center as the number of calls in a specific language cannot be predicted. There can be variations depending on season, company outreach, marketing campaign, competition push, weather changes etc.
Marketing leads are not attended to – Companies participate in exhibition, advertise in publication or run a marketing campaign in a region. There are good enquiries, and many of them fizzle out for lack of follow up in their language.
Development in one language is not reflected in other language support – If there is a specific query for one language users, which is out of the developed script, it needs to be solved in that language and also the script in other languages needs to be quickly updated for better customer support and data.